McCaysville, Georgia – Two State Main Street
"Unique Southern Appalachian Mountain Town"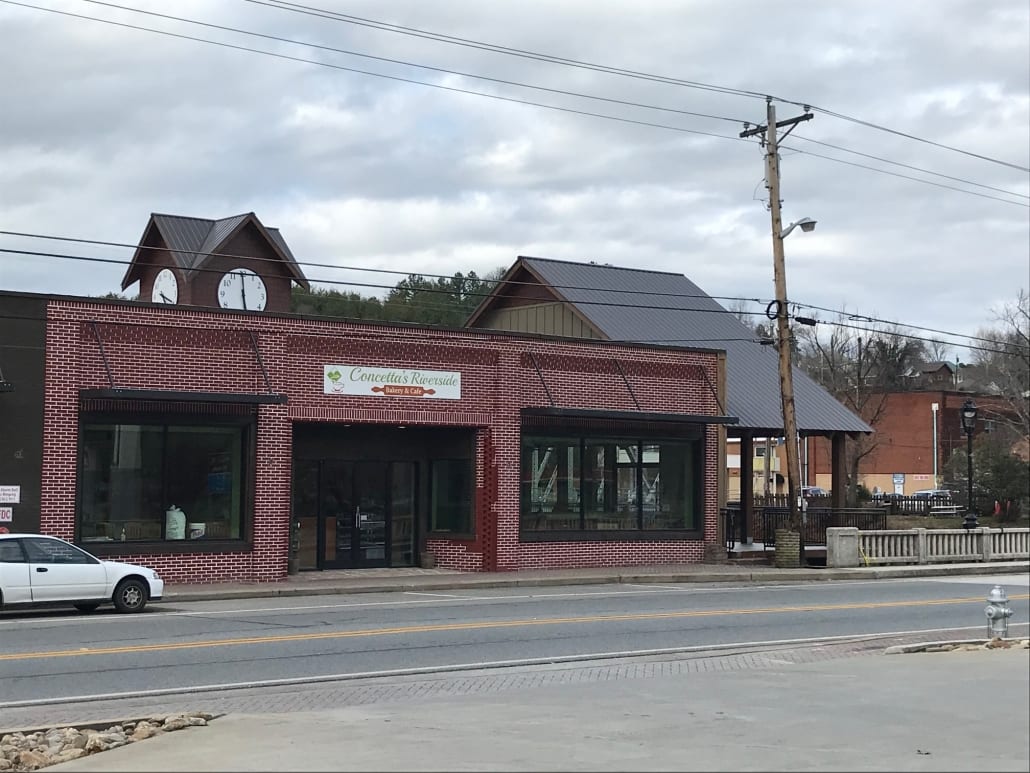 Located in the Southern Appalachian Mountains sits McCaysville, GA, the northern border of Fannin County. To its north sits its twin city, Copperhill, TN. Together, the two make up a single town along the Toccoa/Ocoee river just a short drive down the road from Blue Ridge, GA. In fact, McCaysville's location allows you to have one foot in Georgia and one foot in Tennessee right in its thriving downtown. This interesting site of seeing two states on one street is a site to visit and cities to tour.  Dickey McCay Insurance physical office location is located on the main street of Copperhill, Tennessee, but the employees can walk to a McCaysville restaurants for lunch, shop on break, or visit with a client to help them with their insurance needs on the same main street.
Two Cities, Two States on One Main Street
Even though it might seem the two cities are miles apart, the two can be visited on the same street.  McCaysville, Georgia and Copperhill, Tennessee caring residents have a unique setting for tourist to visit and enjoy.  Dickey McCay enjoys serving the awesome residence of McCaysville and Copperhill along with Ducktown, Tennessee as all three cities feel like the same hometown community as they are so close to each other. They understand the complexities of the states and how to help their insurance customers gain the best protection possible.  Dickey McCay Insurance is fully licensed and writes policies in many states across the United States, but they focus on Georgia, Tennessee, North Carolina, Kentucky, Alabama, Mississippi and South Carolina.  The Tri-State Area of Tennessee, Georgia and Tennessee is operated like a hometown community.
McCaysville Climate
Its location also allows for a very temperate climate due to its elevation. Unlike its southern neighbors that experience sweltering summers, McCaysville averages mid-80s to lower 60s in the summer, and winters are cool averaging between 20-40 degrees with a handful of snow. If it gets too hot for you, though, you can just jump in the mild river right downtown or tube from one end of town to the other, crossing the state line as you pass under the bridge.
A Little McCaysville History
Established in 1904, McCaysville has gone from a small mining town of just a few hundred residents to a quant tourist destination with 1,000+ residents over the past decade. After the mining boom ended, tourism picked up in 1996 when the Olympic kayak slalom race was held on the nearby Ocoee River. Like much of this area, the Ocoee river was home to the Cherokee, and it gets its name from their native language meaning "wild apricot." Since '96 Olympic games, people from all over the world have taken to the area to kayak and raft the Ocoee River, making it one of the most visited rivers in the world during the peak summer months. Not up for high adventure on the river?
Tourist Attractions in McCaysville, GA
Just downstream from the Olympic center the boisterous Ocoee river turns into Parksville Lake and slow moving section where visitors can tube, swim and even cook and camp out. And if the water isn't your thing, there are many wineries, orchards, and renowned BBQ joints in the greater McCaysville area as well. In recent years, there has been money invested in the streetscape and city park, and much of the community's focus revolves around the beautiful downtown area where you can see remnants of days gone by. The blue ridge mountains surrounding the small town are over a billion years old, and if you are lucky enough to be there during the dusk hours, you can see why the Cherokee called these hills "The Great Blue Hills of God." In fact, a short twenty minute drive from McCaysville sits Georgia's tallest "blue hill," Brasstown Bald.
Ocoee River Passes By McCaysville Georgia
As the Ocoee river passes under the bridge in downtown McCaysville over the Georgia line, it becomes the Toccoa river known for its hiking trails and popular fishing spots. The Toccoa, meaning "beautiful" in Cherokee, is nestled in the river bed gorge of the Chattahoochee National Forest where it shares another popular tourist destination: the Blue Ridge Scenic Railway. Here, you can take a fun 4-6 hour train from Blue Ridge, Georgia to McCaysville snaking alongside the beautiful Toccoa. Fall is the best time for these train visits as the leaves begin changing from green to reds, oranges, and yellows along the river. As the train stops in McCaysville, visitors have time to visit the small town.
Shopping in a Small Town with Charm – Antiques and Specialty Shops
With its small town charm, McCaysville has more to offer than its natural beauty. These days, its vibrant downtown is populated with antique and specialty shops with southeast flavor, mountain art galleries and delicious southern restaurants. You are sure to fall in love with this small town and its welcoming southern spell.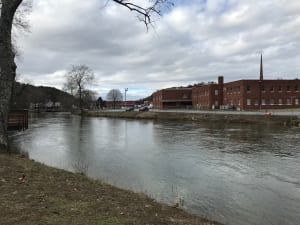 As you can see, the peaceful river flowing behind McCaysville First Baptist Church makes one feel good all over.  In the summer, breeze off the river provides an excellent picnic opportunity with friends and loved ones.  The cool water can make anyone feel good.  If you don't like water, just remember the southern cooking food you can enjoy from several of the restaurants on main street.  At Dickey McCay Insurance, the friendly staff take time to walk down to many of the different shops and eating establishments to visit with the businesses as Community matters.  Even though, the physical address of the office is located in Copperhill, Tennessee, the insurance agency is located just a few blocks from the state line of McCaysville, Georgia.  It is really unique, but it provides for an excellent talking piece among the visitors who come into town.
McCaysville Matters to Dickey McCay Insurance
"Community is Important – It Matters"
If you plan to visit, contact Dickey McCay Insurance as the staff will be glad to give you tips on the places to see, shops to visit, and restaurants to eat as they love their community.  If you plan on moving to the area, don't hesitate to call as Dickey McCay as their professional insurance staff are interested in making sure you get the best auto, home, health, life, business or renters policy available for the money.  It's all about people helping people when it comes to community and insurance.
Whether you are visiting out of town from another state or you live in Murphy, North Carolina, Andrews, North Carolina, Franklin, North Carolina, Blue Ridge, Georgia, Madisonville, Tennessee, Tellico Plains, Tennessee, Blairsville, Georgia, to Atlanta, Georgia, our friendly staff is available to answer your questions and help you regarding community and all types of insurance —- car and auto, life, health, cyber security, commercial, renters, flood, etc.  You name it; we can work at helping you with it.
Now, go enjoy McCaysville, Georgia.